CURRENT LITTERS/PUPPIES AVAILABLE
Pregnancy is confirmed!!!
Exciting litter due mid-March 2018
Sire: "Teddy" - UKC CH/INT'L CH Wildfire's Last 'N Impression. "Teddy" will be making his AKC show ring debut soon! He is a "Chubby", CH Victory's Always Makin' Waves CGC TDI son.
Dam: "Jewel" - AM CH/UKC CH/ BIS BBX INT'L CH Wildfire's Denim, Diamonds 'N Dreams. "Jewel" began her show career as a young puppy winning 2 BIS Puppy awards at UKC shows. She was awarded her first RWB award at AKC shows from the 6 to 9 month Puppy Class and continued on in the show ring to finish her AM CH entirely from the Bred By Exhibitor Bitch class. "Jewel" loves to play ball and hang out with us in the house or next to me while I'm on the computer. She also loves to go on trips up to our cabin. Extremely sweet temperament and truly a "momma's girl"!
"Teddy"
Dad of upcoming litter
"Teddy"
Dad of upcoming litter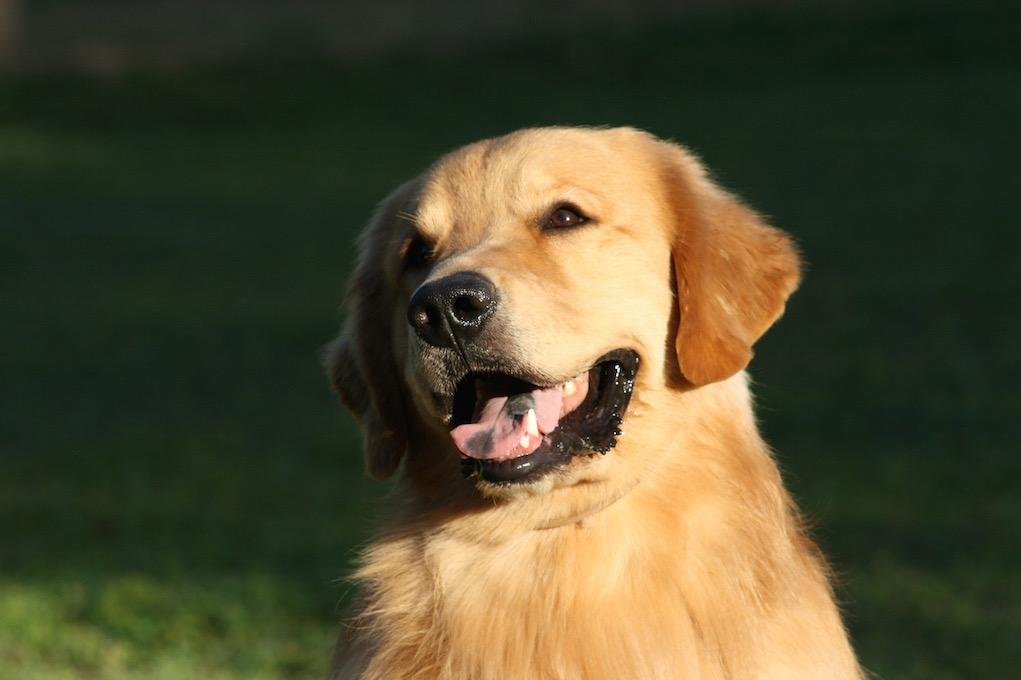 "Teddy"
Dad - Just prior to finishing his UKC CH title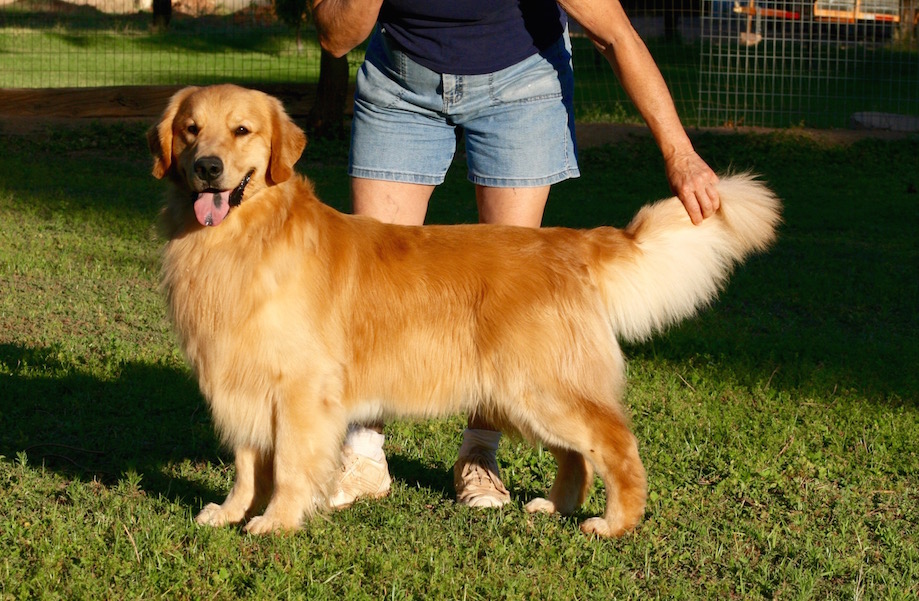 "Chubby"
Grandfather - AKC AM CH with a CGC & Therapy Dog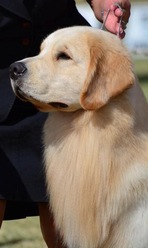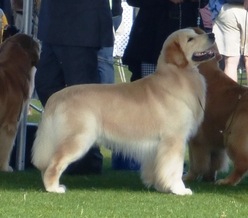 "Jewel"
Mother of upcoming litter
UKC BIS Puppy 5 1/2 months old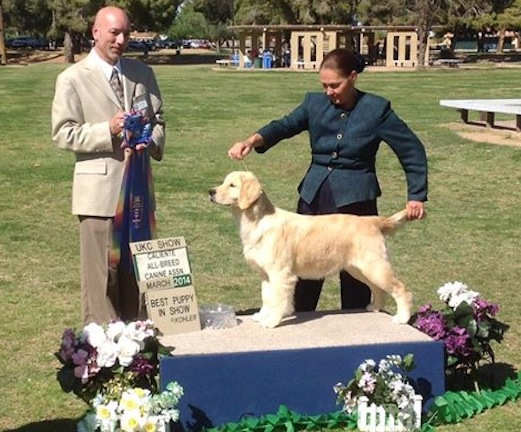 AKC RWB 8 mos of age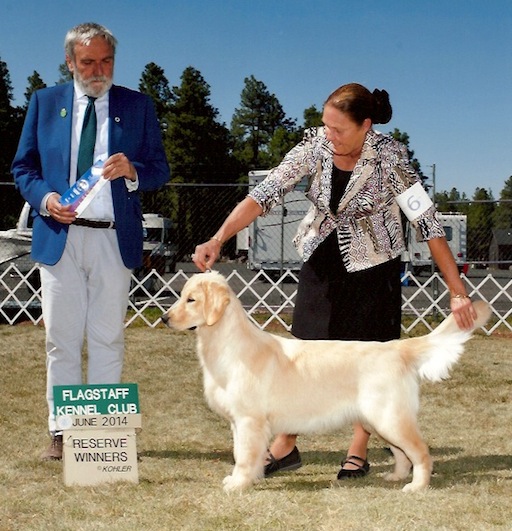 First AKC Major Points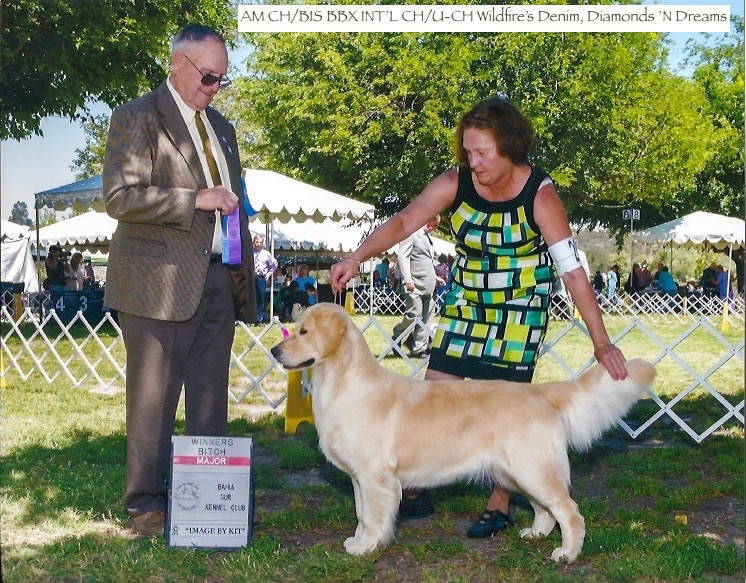 "Jewel" on the move after finishing her AM CH title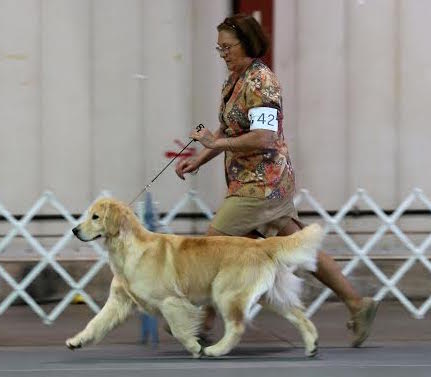 Photos below are of "Angelo" at 10 1/2 weeks of age. "Angelo" is a "Teddy" son out of his first litter of puppies and now resides in Texas with his co owner. They made the trip over to AZ for the UKC shows January 21st and 22nd and Angelo won 3 Best of Breed Puppy awards at 4 months of age. He also finished his INT'L/NAT'L/HONORS CH titles February 11th at 5 months of age including winning the coveted Best In Show Puppy award at the 2018 Desert Sieger IABCA show. "Angelo" is a littermate to the girl I kept, "Abbey", who won Best Puppy In Match at her first show January 2018 and at the UKC show mentioned above, Abbey won Best of Breed Puppy at the 2nd show and also was awarded All Breed Reserve Best In Show Puppy. We are looking forward to both of these kids futures in the ring as well as other venues and as family companions.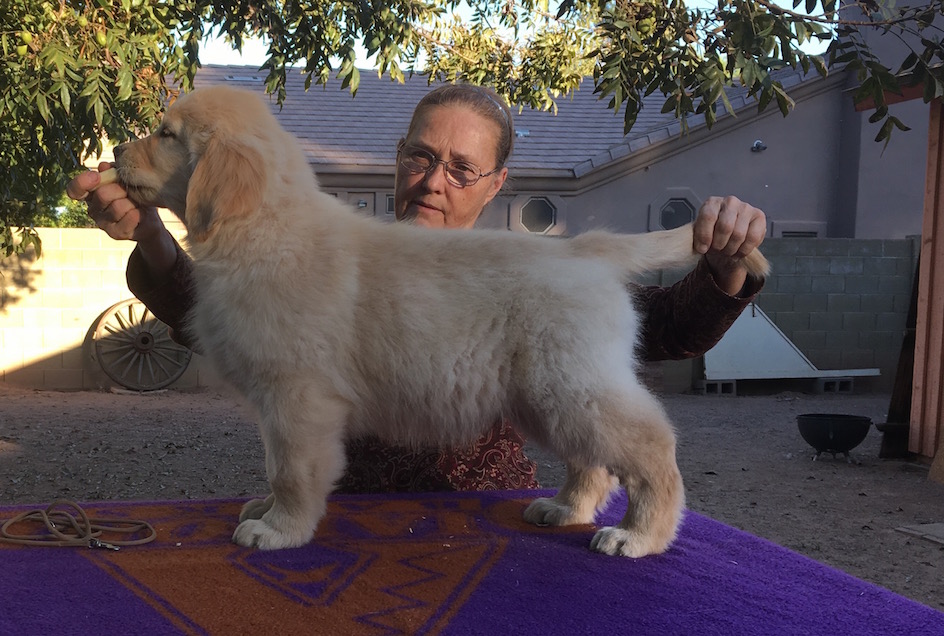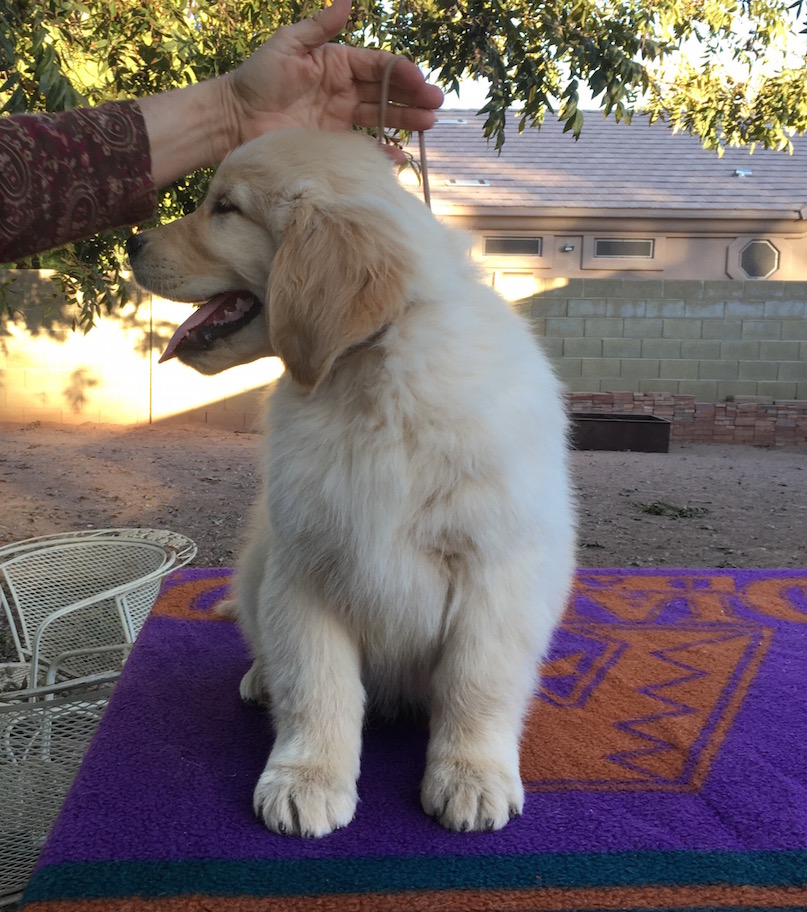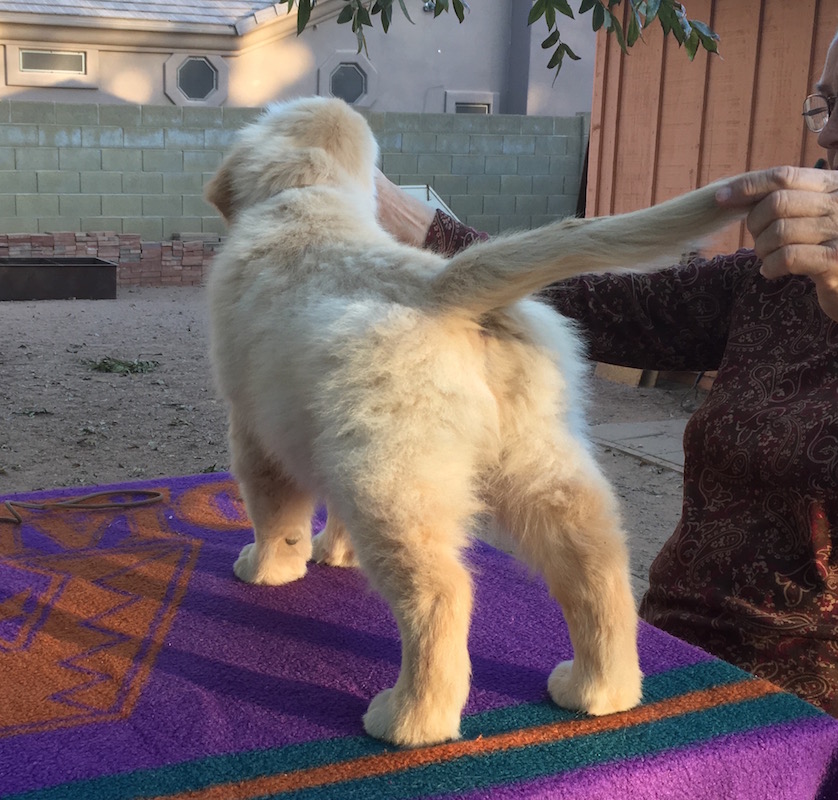 The "Interest List" is now being opened for those discriminating Golden fanciers that are looking to add a well bred family companion to their household. Both parents have OFA certifications for hips, elbows, eyes (current) and hearts (done by a cardiologist) and they are verifiable on the OFA website and come from generations of health tested Goldens. Genetic testing through Paw Print Genetics has also been completed on both parents. Puppies that are evaluated at approximately 8 weeks of age as Pet/companion puppies are $2,500 and are sold on AKC Limited Registration paperwork and also a Spay/Neuter contract. Pet/companion puppies cannot be used for any breeding purposes, nor shown in conformation competition but are eligible to compete in all other venues or just be your best friend. Co ownerships do not apply to those puppies sold as pet/companion puppies.
A few show/breeding prospects might be available to approved homes and only on co ownership contract terms. They would live as your pet, but must be made readily available for showing when show ring ready as determined by the breeder/co owner; cannot be shaved; must attend some lessons for socialization and training, cannot be spayed or neutered and there will be some breeding as well as other requirements as well. I will mentor the co owner on any breeding, training and showing. Co ownerships offer an opportunity to those who are entertaining the idea of dabbling in the show/breeding world and offer a chance to be considered for a puppy that I myself would be keeping for my future showing and breeding program. These puppies range in pricing depending on the applicants qualifications but usually are $2,500.
All Wildfire puppies are bred to not only be gorgeous, well bred, sound Goldens that could do well in the show ring, but also can perhaps compete in obedience, rally, tracking, hunting work, barn hunt, dock diving, junior showmanship, therapy or service work or any other area you wish to try as well as being your wonderful faithful companion. Feel free to contact me today to discuss adding a Wildfire Puppy to your life!